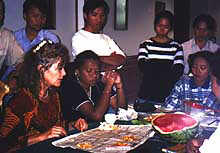 Jude Fanton (L) giving a demonstration to course participant
on seed saving techniques.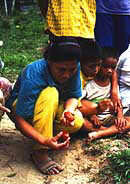 A mother from Kg. Takutan
during a demonstration on
seed saving tomatoes.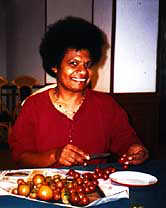 Jane Mogina from Papua New
Guinea
sampling her results from the market survey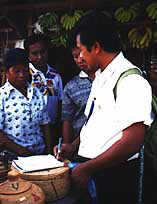 Arif Aliadi from Indonesia
interviewing a handicrafts
vendor during the market survey
at Nabalu.
People and Plants in Southeast Asia recently held its 3rd and final session of the People and Plants in Southeast Asia Certificate Training Course in Applied Ethnobotany in Kinabalu Park, Sabah, Malaysia, from 16 June-3rd July 1998. This was the final session of a three-part training course series, also known as CTC. Over 20 participants, from Malaysia, Indonesia, Thailand, Philippines, India, Vietnam and Papua New Guinea were involved in this training course. Participants represented a wide range of background, which include university researchers, government officers, protected area staff, representatives of environmentally concerned commercial enterprises and NGO members.

The CTC, a training course of 8 weeks' duration, is designed to provide a broad introduction to theory, concepts and field methods in ethnobotany, as applied to conservation and development. The goals of the course is to build capacity in a group of people who are working on issues of plant resource management, particularly associated with protected areas; develop additional training materials and approaches; raise awareness within institutions and protected area agencies of the importance of a multi-disciplinary approach to applied ethnobotany; and create networking opportunity for applied-ethnobotany practitioners

The first session of CTC kicked off with a two-week session on qualitative methods in applied ethnobotany, held Kinabalu Park in September 1997. This was followed by another two-week session on quantitative methods, which was preceded by a short course on Applied Geographical Information Systems in February 1998 in Subic Bay, Phillipines. The course ended with a two week session on the theme of "returning results to communities", also held at Kinabalu Park June-July 1998. This session was preceded by a one week short course on ethnobiological and scientific classification of Southeast Asian plants and animals.

The CTC was officially closed on the 3rd of July 1998 in a ceremony graced by Puan Monica Chia, Permanent Secretary to the Sabah State Ministry of Culture Environment and Tourism, representing Y.B. Datuk Wilfred Bumburing, Minister to the Ministry of Culture Environment and Tourism.