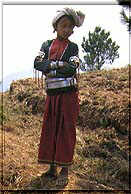 A Baluang girl from Myanmar, living as a refugee in No Lae village, Chiang. She represents the disadvantaged people who benefit little from conventional development
and conservation programs.
© Gary J. Martin
Opinion
Do you have a viewpoint that you would like others to consider, or an issue that you want to explore with colleagues? If so, you can use the Feedback comment form to send us your reflections on ethnobotany, conservation and development. Alternately, send an e-mail to the Web manager – just remember to include your name and address. The People and Plants Online editorial committee will review all comments, and we will post all appropriate contributions to this page.
There are other Websites that host discussions on ethnobotany. Country Life and Simplicity Village has a discussion lounge in its Ethnobotany Café on the Web, which "is meant for you to be able to freely discuss topics related to Ethnobotany, including uses for native American herbs, foods of the woods, mountains, and deserts, plants used in arts, crafts, and religious ceremonies."
(This page last updated on 27 February 1999).