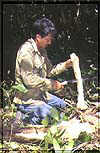 Lorin Lugas,
a Projek Ethnobotani Kinabalu participant from Melangkap Tomis (Sabah, Malaysia), cleans an edible palm heart from Arenga undulatifolia Becc. (Arecaceae).
ã Michael J. Doolittle
Regional Activities
The People and Plants Initiative sponsors field programmes in eastern and southern Africa, the Hindu Kush Himalayas, Southeast Asia and the South Pacific. Regional programmes include a mix of participatory planning, workshops, exchanges, small grants, awards and courses designed to meet local priorities in conservation and development. Regional coordinators, reporting to WWF or UNESCO, oversee each programme.
Information on our activities in Africa is now available on People and Plants Online, and will be updated as this regional program develops. We hope to create sections on the Himalayas, Pacific and Southeast Asia in the near future.
(This page last updated on 26 February 1999).
Himalayas
Pacific
Southeast Asia