Mike Balick and his colleagues at IEB have produced an impressive number of publications resulting from their research on useful plants of the tropics. They focus on Latin America but carry out some work in Southeast Asia. IEB researchers have a special reputation for their expertise on the use and classification of palms. -GJM Some of the many ways that palm leaves are used by people (Drawn by Bobbi Angel). From: Balick, M.J. 1984. Ethnobotany of palms in the Neotropics. Advances in Economic Botany 1:9-23.
The New York Botanical Garden Institute of Economic Botany (IEB) was founded in 1981 in order to focus a portion of the Garden's research program on applied topics of great human concern. Through its work, IEB seeks to improve our understanding of the relationship between people and plants. Its projects encompass seven main activities:
collecting and identifying plants, and gathering information on their uses through field research focused in the tropics;
studying natural resource management on regional and local levels;
conducting basic and applied research on useful plants;
conserving biological diversity through habitat preservation and germplasm collection;
disseminating research results and information to the scientific community and the general public;
teaching students and training specialists in economic botany;
strengthening the capacity of institutions worldwide to advance research in economic botany.
Projects and field activities are currently carried out in many parts of the world, including Belize, Bolivia, Brazil, Colombia, Dominican Republic, Ecuador, French Guiana, Guatemala, Guyana, Honduras, Indonesia, Martinique, Panama, Paraguay, Peru, Thailand, Virgin Islands and the USA. In Central America, for example, IEB is working with herbal healers in rural villages to identify medicinal plants and to carry out biodiversity studies linked to conservation. In Kalimantan, Indonesia, an inventory of non-timber forest products is being undertaken, including gathering data on flower and fruit production from native trees to obtain an understanding of sustainable yields. In Amazonian Brazil, IEB scientists have completed a palm flora of the region with information on local names, economic and subsistence uses, and conservation status. Research results are regularly published in scientific journals. The IEB also edits and publishes the monograph series Advances in Economic Botany which addresses selected ethnobotanical topics in greater depth.
'Dependence on palms was inversely related to the people's degree of acculturation. As the natural resource base declined (including the availability of palms), people began to cultivate the so-called modern crops and reduce their utilization of wild palms. Seventeen species of palms were found to be used by these two groups of Indians of which Orbignya phalerata, the babassu palm, was of greatest value yielding a variety of important products. In this area palms provide food, fuel, shelter, fiber, construction materials, medicine, magic and other basic necessities of life. Loss of knowledge concerning palm uses indicates the urgency with which plant usage must be catalogued among indigenous groups.'
From: Balick, M.J. 1988. The use of palms by the Apinayť and Guajajara Indians of northeastern Brazil. Advances in Economic Botany 6: 65-90.
CONTACT
Michael Balick, Director, Institute of Economic Botany, The New York Botanical Garden, Bronx, New York 10458-5126, USA; Tel. +1.718.8178763, Fax +1.718.2206504, e-mail mbalick@nybg.org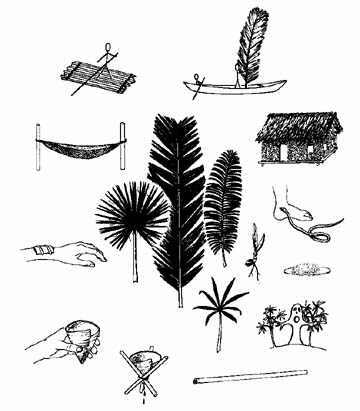 Some of the ways that palm leaves are used by peolple (Drawn by Bobbi Angel). From: balick, M.J. 1984. enthnobotany of palms in Neotropics. Advances in Economic Botany 1:9-23
---
Drawing upon more than a century of ethnobotanical studies at the Royal Botanic Gardens, Kew, the Centre for Economic Botany was founded in 1994 by Ghillean Prance, Kew's director. The head of CEB is Hew Prendergast, formerly seed collector of Kew's Seed Bank at Wakehurst Place. -GJM
Goldminer holding Vellozia sincorana used for lighting fire, Catoles, Bahia, Brazil
(Photo: A McRobb)

The Centre for Economic Botany (CEB) of the Royal Botanic Gardens, Kew, is involved in a range of activities focusing primarily on the drylands of the world. The Centre maintains SEPASAL (The Survey of Economic Plants for Arid and Semi-Arid Lands), a database on useful plants from drylands. Drawing together scientific and traditional knowledge, the database contains information on approximately 6000 plant species, excluding the major crop plants, with data on geographical distribution, uses, life-form, life-cycle, habit and environmental tolerances. Alongside SEPASAL, Kew runs the Economic Botany Bibliographic Database, containing over 150,000 references dealing with plants of economic value.
Other activities of the Centre include ethnobotanical research on anti-malarial plants of the Amazon; Plantas do Nordeste, a project working towards the sustainable development of natural plant resources in Northeast Brazil; and Poisonous Plants in Britain and Ireland, a joint project with the Poisons Unit at Guys & St Thomas' Hospital Trust, London, which has produced a computerized identification system for poisonous plants. In addition, CEB holds an extensive collection of 75,000 plant-based artefacts from around the world. Of both historic and scientific interest, the collections can be accessed by visiting researchers at Kew.
'Kew has been interested in Brazil for many years. The Herbarium contains the mid 19th-century collections of Richard Spruce from Amazonia and those of George Gardner and William Burchell from central Brazil, as well as many other important collections that are rich in type specimens ... It is logical that we should be working in Brazil because it is one of the 'megadiversity' countries, having over 50,000 species of flowering plants ... and a huge range of ecosystems, including the rainforests of Amazonia and the Atlantic coast, the cerrado or savannas of the central highlands and the arid desert-like caatinga of the Northeast ...

Since poorly planned development and colonisation projects have led to much destruction of the natural vegetation of Brazil, it is vital that we are now involved with projects that help both to conserve and use the vegetation in a more rational and sustainable way. Thus we have collaborated with many Brazilian institutions to develop the "Plantas do Nordeste" project which covers both biodiversity and sustainable development aspects.'

From: Prance, G.T. 1995. Director's message: Brazil. Kew Scientist 7:2.
CONTACT
Hew Prendergast, Centre for Economic Botany, Royal Botanic Gardens, Kew, Richmond, Surrey TW9 3AB, United Kingdom; Tel. +44.181.3325706, Fax +44.181.3325278, e-mail ecbot@rbgkew.org.uk or h.prendergast@rbgkew.org.uk
Semi-arid caatinga (thorn scrub) vegetation occupies nearly 50% of Northeast Brazil, a region that covers nine states and is roughly two-thirds the size of Western Europe.
---
Centre for Indigenous Plant Use Research
Following the development of IPUF, post-graduate research programs were started at several universities in South Africa, and this centre of excellence was created at the University of Natal, Durban. -ABC .
Large pieces of Warburgia salutaris (Canellaceae) bark from Namaacha on the Swaziland border fro sale in Maputo, Mozambique
(Photo: AB Cunningham).

The Centre for Indigenous Plant Use Research (CIPUR) was set up in 1994 following a five year award (1994-1998) granted to the University of Natal by the Foundation for Research Development (FRD). Its Ethnobotanical Research Programme is multidisciplinary, involving participants from various departments such as biology, chemistry, geography, pharmacology, physiology, social anthropology and law. The long-term goal of the Programme is to develop strategies for the sustainable utilization and management of indigenous plant resources.
The Programme also has the broader aim of promoting the cultural, socio-economic, scientific and health-care benefits to be derived from the wise use of indigenous plants. The development of a Resource Centre, a post-graduate course in ethnobotany and the initiation of wide-ranging post-graduate projects up to doctoral level form an integral part of the CIPUR program. The Resource Centre provides information on medicinal and non-medicinal uses of indigenous plants, biodiversity, conservation and rural development. The Centre includes a collection of recent publications as well as a literature database. An Integrated Information System (IIS) is being developed, incorporating a Geographical Information System (GIS) which will enable access and integration of information from multiple databases. Additional resources include a photo catalogue and voucher specimen collection of medicinal plants. This is one of the outcomes of a current survey of the plant trade at informal markets in the Durban metropolitan region.
'An Integrated Information System (IIS) is being developed and should be fully functional by the end of 1995. This purpose-designed database will provide CIPUR with the means to integrate and access information from multiple databases including information derived from literature, questionnaire-based surveys and ecological field studies. These data will be captured so that retrieval and mapping via a linked GIS will be possible. Ultimately, the database will provide a powerful planning tool for integrating ecological, socioeconomic and primary health-care research. Michael Berjak, the team member involved in the development of this System, has recently been commissioned by the World Wide Fund for Nature to produce a manual on grass-roots database design and utilization as part of the People and Plants Initiative sponsored by WWF, UNESCO and the Royal Botanic Gardens, Kew.'

From: Higgins-Opitz, S. personal communication.
CONTACT
Susan B. Higgins-Opitz, Coordinator, Centre for Indigenous Plant Use Research, Department of Biology, University of Natal, King George V Avenue, Durban 4001 South Africa; Tel. +27.31.2601337 or 2603192, Fax +27.31.2602029 or 2601195, e-mail higgins@biology.und.ac.za