Back, current and coming issues:
This is none back issue:
Issue 1. Keeping in Touch: Journals, Networks, Newsletters, Organizations and Professional Societies.
This is number two:
Issue 2: Protecting Rights and Resources: The Ethics of Ethnobiology.
The following issues are nearing completion:
Issue 3: Communicating Results: Community and Environmental Education.
Issue 4: Measuring Diversity: Methods of Assessing Biological Resources and Local Knowledge.
And then, we are just beginning:
Cultivating the Forest: Agroforestry Systems.
Managing Resources: Community Forestry Initiatives.
Reading the Landscape: Cultural Perspectives and Geographical Information Systems.
Healing the World: Ecology, Cultural Transition and the Health of Local Peoples.
What do you think about the following topics for later issues? Can you suggest any other emerging topics?
Greening the Earth: Botanical Resource Management in Arid and Semi-Arid Zones.
Supporting Projects: Grant Writing and Foundations.
Feeding the World: Food and Nutrition from Non-Cultivated Plants.
Growing Diversity: Crop Genetic Resources.
Planting Seeds: Ethnobotanical Gardens and Germplasm Banks.
Inheriting Knowledge: Culture, Conservation and Development.
Gettting Organized: Non-Governmental and Indigenous Organizations.
Harvesting the Forest: Non-Timber Forest Products and Extractivism.
Classifying the World: Systematics and Ethnobiological Classification.
---
Gary J. Martin, General Editor
Ivette Fabbri, Design and Production
Alison L. Hoare, Associate Editor
Vinciane de Bohan, Assistant Editor
Terence Hay-Edie, Assistant Editor
Malcolm Hadley, UNESCO advisor
Alan Hamilton, WWF advisor
Hew Prendergast, RBG, Kew advisor
All photographs by GJ Martin except when otherwise noted.
If you wish to reference this issue of the Handbook, we suggest the following citation: Martin, G.J. and A.L. Hoare, editors. 1996. Issue 1. Keeping in Touch: Journals, Networks, Newsletters, Organizations and Professional Societies. In: G.J. Martin, general editor, People and Plants Handbook: Sources For Applying Ethnobotany to Conservation and Community Development. UNESCO, Paris.

When writing to the individuals cited in this issue, please tell them you 'saw it in the People and Plants Handbook'. Letting them know where you found information about their organization, publication or project will help us strengthen our efforts and our network.
Keep in mind that institutions are more permanent than individuals. It is best to send any correspondence to the institutional address, mark 'official' somewhere on the envelope, and put the name of the contact person on the side, preceded by 'Attention:'. This increases the chances that someone else will respond to your request, if the person we mention has moved on.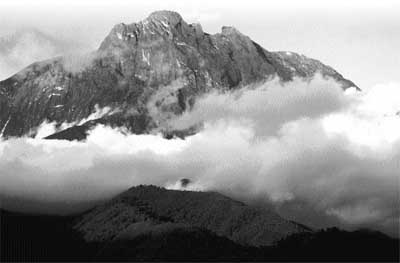 Mount Kinabalu, centerpiece of Kinabalu Park and part of the homeland of the highland Dusun people of Sabah, Malaysia.
---
The People and Plants Handbook is a publication of the WWF-UNESCO-Kew People and Plants Initiative (see PPH 1:4).
The Handbook is produced with financial support from the UK Overseas Development Administration (ODA). Issue 2 of the Handbook has been co-sponsored by the International Plant Genetic Resources Institute (IPGRI, see PPH 1:5). .
The opinions expressed in the People and Plants Handbook are those of the various authors and contributors cited, and should not necessarily be attributed to the editors or sponsoring institutions.